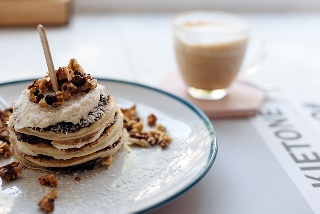 There's lots to love about the seaside town of Bangor in Northern Ireland. We should know, our office overlooks the Marina.
One of the great things about living and working in Bangor is the number of cafes and coffee shops you can visit (when there isn't a pandemic on, of course).
So, we've shared a few of our favorites, in no particular order…
The Red Berry Coffee Co
Nestled in the heart of Bangor, The Red Berry Coffee Co is a great place to go for freshly brewed and ethically sourced coffee, hot chocolate, and tea. We often go in for coffee and come out with dessert… oops!
Customers say: "Their Chai latte are delicious, burgers are fantastic, lovely helpful staff and you can go upstairs and chill while eating."
Where: 2-4 Main St, Bangor
Cafe Brazilia
Can you ever get tired of scones? The ones freshly made in Cafe Brazilia are just to die for. We can make this entire section about their delicious scones alone, but that would be doing a disservice to all the other treats they offer.
Customers say: "Breakfast was delicious! Staff were super friendly and made the visit more enjoyable. 10/10 recommend!"
Where: 13 Bridge St, Bangor
Guillemot Kitchen Cafe
In uncertain times, the Guillemot Deli is a real breath of fresh air serving rusting comfort food that tastes as good as it looks. Any deli that serves Huevos Ranchos goes straight onto our "yes please! list".


Customers say: " Breakfast was delicious will definitely try for lunch soon."
Where: 6 Seacliff Rd, Bangor
Cargo Coffee
As you drive into Bangor from Belfast it's difficult to miss Cargo Coffee. Give in to the temptation, pull in and enjoy fresh bagels, baked goods and specialty coffee.
Customers say: "Love their coffee, top notch and staff are always super friendly. I love their loyalty system, which has meant I have already been able to redeem my points for a free coffee."
Where: 16 Belfast Rd, Bangor
Kook Bangor
If you ever find yourself on Main Street, then Kook Bangor is a must. Catering for a variety of dietary requirements, they offer vegan options in a wide-ranging menu that includes everything from scones and snacks to full meals.
Customers say: "Outstanding food but more awesome was the welcome. Its like a big hug with food. This is now my go to place."
Where: 41 Main St, Bangor
Jazzberry Cafe
A popular place for a yummy breakfast, the Jazzberry Cafe will keep hunger at bay as you chow down on fluffy pancakes. Located on the high street.
Customers say: "This is a lovely place and the owners are really friendly and welcoming - lovely home cooked food - and sausage rolls are amazing - very clean and well worth a visit."
Where: 123 High St, Bangor


Roka Coffee
Roka Coffee is a quaint cafe that offers traditional tea and coffee along with their tasty meals. With outdoor seating this may just be the place for meeting friends in the coming months.


Customers say: "Had lunch here on Saturday with hubby and dog. Sat in a covered outdoor area and served by really good staff. Enjoyed our sandwiches. Recommended."
Where: 6 Hamilton Road, Bangor


The Pit Stop Cafe
Worth a trip to Balloo walk, The Pit Stop Cafe is a bit of a Bangor institution, serving some homely meals and savory goodness. Fish and chips, beans, sausages, you name it!
Customers say: "Great for a weekend fry up or a home lunch. Cracker staff and superb food. Prices are fair too. Definitely worth a visit once in a while."
Where: 39 Balloo Rd Bangor
Cafe Havana
Sometimes you just have to go Cuban. Luckily, Cafe Havana offers a taste of Cuba with their rich and freshly brewed coffee. Although the coffee is worth a trip to Unit 3 alone, there's plenty of other food to keep you coming back.
Customers say: "We had burger's last week for lunch they were absolutely beautiful highly recommend."
Where: 104 Rathgael Rd, Bangor
Coffee Cure At the Museum
Club sandwiches, sausages, and coffee while sitting on a picturesque lawn? Sign us up! Coffee Cure At the Museum is located at the Town Hall. Grab a coffee then take a stroll through the walled garden.
Customers say: "Lovely for a coffee and traybake very friendly staff and lovely to it outside and enjoy the surroundings."
Where: Town Hall, The Castle, Bangor
Baylands Coffee Company
From cinnamon rolls and traybakes to tasty sausage rolls, take a trip to Groomsport Road and treat yourself to these delicious cafe staples.
Customers say: "Excellent Coffee and Food."
Where: 103 Groomsport Road
The True Food Cafe
True Food cafe is a place that everyone with a sweet tooth must visit. The desserts are as tasty as they look in photos!
Customers say: "Simply a super cafe."
Where: 15 Thornleigh Gardens, Bangor


Suburban
Just a two minute walk from Balleyholme beach, Suburban offers freshly ground coffee, and tasty ice cream. The foam art also makes the coffee all the more fun to drink!
Customers say: "Lovely little coffee shop."
Where: 99b Groomsport Road, Bangor


Cafe Taste
Fill up on a fry or tasty panini at this small café that packs a punch. Great name as well!


Customers say: "BEST FRY IN IRELAND."
Where: 14 Market Street, Bangor
Cafe King
Next is another café with a blunt, but charming name. Café king. If you head just a bit off Main Street, you'll find food fit for a king. All the staples are there for you to enjoy, with a nice rustic feel.
Customers say: "Good food, good value."
Where: 2b King Street, Bangor


Hillmount Bangor
Food and gardening. What more do you want? Gracing Belfast Road is this café / garden centre. Convenient and tasty.
Customers say: "Everything you need for garden, home and stomach"
Where: 116 Belfast Rd, Bangor
The Happy Coffee Bean
Described as "a couple of 'has beans' with a love of talking", how could you not want to visit this coffee trailer? Whether you're looking for winter warmers or coffee in a hurry, this is the place for you.
Customers say: A must for coffee/scones.
Where: King Street, Bangor