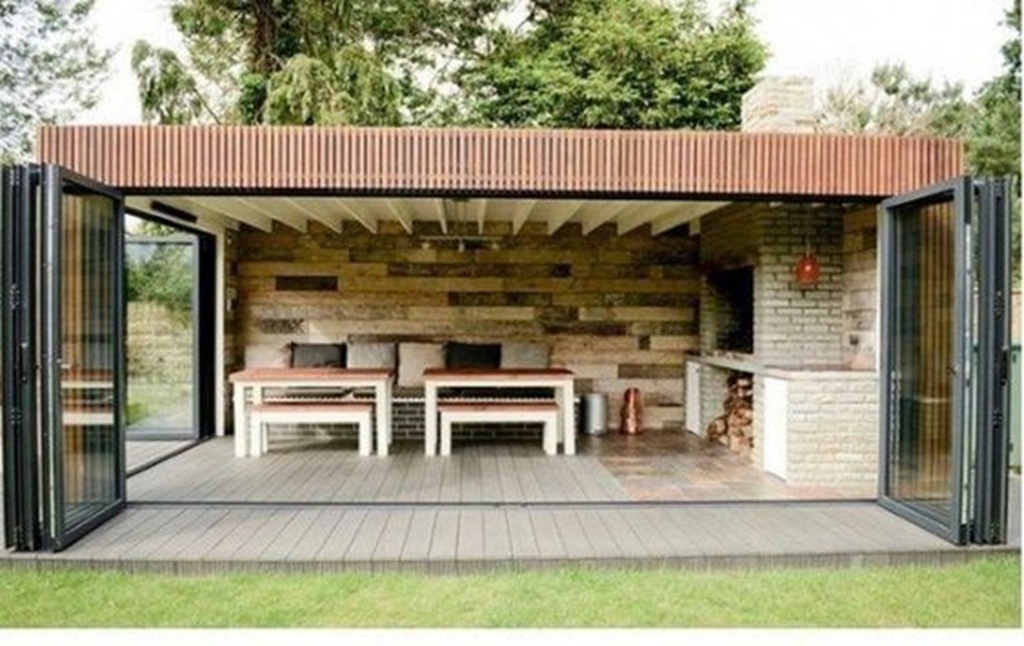 Working from home, adding extra space to your home or even just a space to escape the kids are all great reasons to think about a garden room.
A separate space where you actively go to work is great for work life balance and these characterful spaces are more than just glorified sheds.
They're insulated, wired up spaces that are every bit a part of your house as other rooms.
Whatever use you have for it, there are so many options when it comes to garden rooms. Most importantly, size need not be an issue.
Whether you have a small garden or acres of land, there is a garden room for you.
Looking to Entertain?
There comes a point in every adult's life where they think "we should have a bar in our house?"
These garden rooms double up as great places to entertain friends and family as well as chill out.
Image:Rooms2U
Large glass doors add a lot of natural light and allow you to enjoy the outdoors from the comfort of your cosy outdoor cabin.
Looking for something secret?
Although it may seem that these garden rooms are designed only for those with large outdoor spaces, that is not the case. If you are limited on space, there are still so many options out there for you.
Image: Ideal Home/Green Retreat
From the large garden rooms to a less obtrusive medium-sized room, there is still plenty of room to create a comfortable and relaxing living space that can become an extension to your home and garden.
Surrounding your garden room with plants, flowers and trees is a great way to keep the feel of your garden and to disguise your garden room a little more.
If this is still looking a little too big for you then do not fear, there are still more options!
Looking for something smaller?
Small garden pods are still a great way to gain some extra living space whether that be for work, relaxation or creativity.
These are a great option if you are limited on space and still need a home office or art studio. By incorporating the glass doors and plenty of windows, these smaller rooms can still feel light, bright and spacious.
Image: JML Garden Rooms
Looking for something custom?
When it comes to garden rooms, size is not the only variable option. As well as there being multiple size choices, you can also get creative with design and shape to create a room that best suits your garden and the needs of your home.
Image: The Garden Room Guide
Image: Curve Garden Rooms
Curved edges give a softer impact and help the room to fit in with the foliage in the garden. Having a decking area joined to the room can also help to integrate the room and open it up into the garden.
Something that blends in with your garden?
The use of wood creates a more natural bohemian effect which might be more in keeping with the theme of your garden. This is a great way to have a good-sized outdoor space without it taking over your garden.
Image: House & Garden
These wood-clad rooms are more similar to a more traditional cabin. Tucked away behind foliage it can become a secret and peaceful hideout spot.
Image: shackadelic
If you are looking for a modern and contemporary room that will draw the attention of your visitors and become a feature piece within your garden, painting it a bold colour will do this for you. It looks fresh and stylish.
Image: lovePROPERTY
The size, shape and design of your garden room are all important factors and there are many options out there. However, the list of possibilities for the interior of your garden room is even longer.
Image: Ideal Home
Most commonly people use them as their home office or chill out space but they can also be used as an overnight space for guests or even if you fancy a night sleeping under the stars.
Whatever you need your garden room for, there is an option out there for you. No matter the size of your garden, you can create the perfect outdoor room to meet your needs.
Garden rooms can also be a great way of adding to the sale value of your home.
Looking to sell? Book a free valuation here.