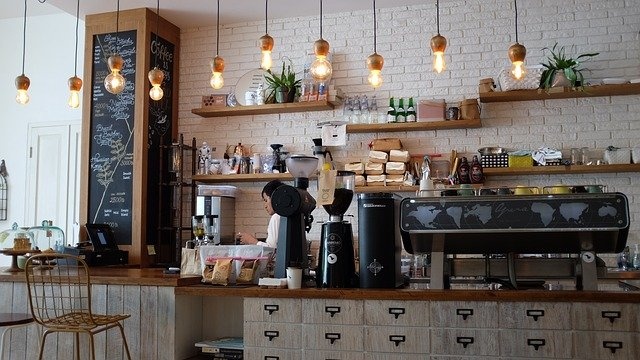 Perched on the tip of Strangford Lough, a short bus ride away from Belfast, sits a charming place called Newtownards.
A small town with loads of great places to eat, we thought we'd whet your appetite by sharing some of our favourites (for when all this pandemic business dies down).
So in no particular order…
1. Haptik
You don't get many "Melbourne influenced contemporary art space coffee bars" in Newtownards, so we should all embrace Haptik. Us estate agents would describe the interior as stylish and contemporary - complete with its own gallery.
With really friendly staff, this is a great place for a quick coffee or to catch up with friends and family.
Where: 29 Frances Street, Newtownards
What customers say: "Great cosy atmosphere but the food is outstanding! Highly recommend the beans on toast! Great service, presentation and value for money!"
2. Cloud 9
When you're at Cloud 9 you'll love their scenic views up to Scrabo tower. Great for kids, you can watch the planes and helicopters taking off while enjoying a delicious breakfast.
Cloud 9 offer a wide range of options from healthy meals to picnics and afternoon teas.
Customers say: "This place really is a hidden gem, the staff are brilliant, they are friendly and professional."
Where: 61 Portaferry Road Ulster Flying Club, Newtownards
3. Plaza
Sit back in comfort, watching the world go by in Conway Square or enjoy a Sunday lunch with he family.
Customers Say: "We regularly visit Plaza cafe and the food is always lovely and fresh, made for you there and then. The big Menu boards have a lovely variety of really tasty wraps, sandwiches, baked potatoes etc.- no plain old sarnies here!!"
Where: 7 Conway Square, Newtownards
4. Cafolla's Cafe
Back tot he square again.... A local and national institution, Cafollas serves everything from award-winning ice cream to fish and chips as well as serving a wide range of gluten-free foods. It's the perfect place to enjoy those comfort food classics that all the family will enjoy.
Customers Say: "How fabulous to find this family cafe, unchanged. Welcoming and great food. Didn't need the burger, but way too good to say no"
Where: 15 Conway Square, Newtownards
5. Relax Cakes
Who doesn't like cake?
Customers Say: "Nipped in and grabbed a curry chicken sandwich, 2traybakes and a coke. Got talking to the chef and realised that they had closed almost an hour earlier. Most people would have turned me away."
Where: 17 Jubilee Road Stangford Business Park, Newtownards
6. Knotts Cafe and Bakery
A local family-owned craft bakery and coffee shop, they deliver food to the highest standard with in-house bakers and cooks. They serve a range of traditional family foods such as home-baked lasagne and casseroles, even cakes for an after-dinner treat!
Customers Say: "It's a lovely place for scones and coffee. If you're looking for something else, you won't be disappointed"
Where: 49 High Street, Newtownards
7. Costa Coffee
If you're looking for something familiar, there's always Costa Coffee - grab a new coffee combination to try with seasonal flavours both hot and iced!
Customers Say: "This place has so many treats on offer its hard to chose, they are all delicious. Hubby loves the coffee and I love the iced drinks"
Where: 22c Circular Road Unit C17 Shopping Centre, Newtownards
8. TLC Coffee House
TLC (The Life Church) coffee house, has inviting and tasteful decor. Its ambience is relaxing, the staff are friendly and very helpful. They offer a great range of options from a chorizo sausage roll (yum!) to an oreo milkshake.
Customers Say: "Great ambience lovely set up good generous portions and good choice Staff are very attentive and helpful love lunching her"
Where: 18C Crawfordsburn Road, Newtownards
9. The Gatelodge Cafe
Housed in the historic Gatelodge, the Gatelodge cafe not only odders a range of tastey homemade food, but everything they do is in support of adults with learning disabilities.
Customers Say: "Staff were very friendly and caring. Had an amazing Mars bar and white chocolate scones and drinks. Beautifully decorated and welcoming space."
Where: Church Street Located at the Entrance to the Ards Hospital, Newtownards
10. Bob and Bert's
Bob and Bert's believe coffee is personal. Their coffee beans are roasted locally in Northern Ireland. You won't miss this coffee shop with its memorable bright blue storefront.
Customers Say: "Have been here few times and it's consistently delicious Have tried few of the menu options and all have been very good Staff have been really helpful when noted juggling tray and buggy nothing was too much trouble Definitely be back"
Where: 51 High Street, Newtownards
11. Jarrah Of Newtownards
Watch the world go by through the big feature windows in the town centre. Whether you're dropping by for fresh scones or a spot of lunch, it's worth the visit!
Customers Say: "Dropped in for a coffee and cake... coffee was excellent and the scones were fresh and extremely tasty. Well worth a visit!"
Where: 12 Frances Street, Newtownards
12. Caffe Nero
Another household name if you're looking for something familiar or to grab and go.
Customers Say: "Have to say, I don't go anywhere else for my daily caffeine hit when I'm in Newtownards... The flat whites are to die for, the freshly cooked pastries are irresistible, and the team are just great fun! Brightens up my morning no end!"
Where: 20 Conway Square, Newtownards
13. Cafolla's Premier Cafe
Offering takeaway "heat at home" meals as well as breakfast, lunch and homemade ice cream. Cafollas is a traditional cafe with amazing service (and portions)!
Customers Say: "Went for breakfast, menu was just enough! Portions were huge! staff were amazing"
Where: 10A Regent Street, Newtownards
14. Starbucks
Starbucks has you covered for your mid-shopping coffee. A great place for a quick catchup or to get some work done. They are known worldwide for their variety of coffee options.
Customers say: "This is actually a great spot for grabbing a coffee with a friend"
Where: Circular Rd Ards Shopping Centre, Newtownards
15. Hillmount
Combine coffee with gardening. What more do you want?
Its atmosphere is bright and welcoming, it's a lovely place to enjoy a coffee after a walk or a Sunday dinner.
Customers say: "We had never been to the Hillmount garden centre before and I have to say the Sunday dinner was absolutely delicious. I would not hesitate to recommend this to anyone."
Where: Cornerstone Church 80 Ballyreagh Road Off the Movilla Road, Newtownards
16. Del Piero's
Sweet treat heaven. They offer a huge range of ice cream flavours with a fun interior, and a place the kids will love while you enjoy your coffee fix!
Customers say: "Lovely food. Great service, very quick and courteous. Sources ingredients from local suppliers, and involved with local community"
Where: 1 Frances Street, Newtownards
17. Cafe Barista
Grab coffee and a sandwich to relax on your shopping trip. A relaxing and friendly atmosphere.
Customers say: "Sandwiches are freshly prepared - coleslaw is gorgeous and the coffee is by far the best I have tasted in a long while. And as for their cakes - truly scrumptious!"
Where: 22C Circular Road Ards Shopping Centre, Newtownards
18. Millars Fish & Chips
Treat yourself, you deserve it. A fish and chip shop that has gluten free options and offers quick and quality service!
Customers say: "This is a really excellent chippy"
Where:46 Donaghadee Road, Newtownards